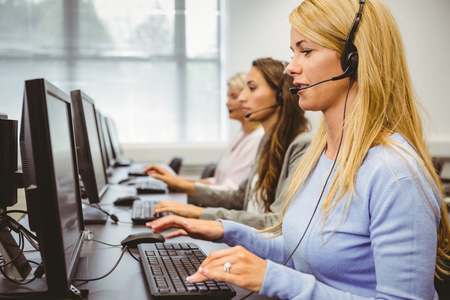 Running a business requires juggling a myriad of tasks. Many companies often resort to handling incoming calls with on-site staff. Typically, those staff members already have job responsibilities that are not directly related to providing customer service by phone. As a result, companies often miss out on the perceived benefits of handling calls internally due to decreased productivity and dissatisfied customers.
By outsourcing these call center services to the team at A Personal Answering Service, you can ensure all your incoming calls are handled promptly and professionally.
Indeed, the most apparent advantage of hiring a call center is that it largely eliminates the need for your on-site staff to field questions from customers. It allows them to focus on their core competencies. However, the benefits of working with a professional call center go beyond mitigating the distraction of incoming calls. Providing high-quality and professional customer service by phone requires training. So, unless your company offers specialized phone service training, your current on-phone customer services could be significantly lacking.
Third-party call centers maintain a dedicated staff of trained professionals.
They ensure continuous training for their team and manage their employees to guarantee your customer service is always top notch.
In addition to trained customer service professionals, third-party call centers also equip themselves with the latest technology. That technology is not for taking incoming calls; it is also for monitoring quality and capturing customer satisfaction. They can manage per-call costs to provide insights on how well the investment is working for you. They also utilize industry-specific software to collect and analyze data for continuous improvement.
The technology infrastructure of a third-party call center can improve your brand image and make a great impression on customers.
To learn more about how partnering with a professional call center can benefit your business, feel free to give us a call at our toll-free number or contact us online today!