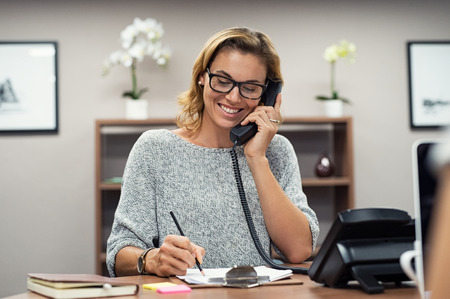 When you are working in customer service, it is essential to be available to communicate with existing customers and potential clients. Sometimes questions need to be answered on a personal level, and that is where phone calls come in to play. Simply answering the phone is a simple way to get your customers engaged with your business.
While there are more steps involved in a successful customer relationship, here are a few phone etiquette tips:
Answer within the first three rings- When a customer has a question or needs to contact an expert, they want results right away. Keeping a customer waiting on the line for an extended period of time can potentially upset them and cause them to have negative feelings toward your business. Picking up the phone quickly can help customers build trust in your business and know that you will be there when they need you.
Name Exchange– Your customer may not know who the person is on the other line, but they did call your business, so they are familiar with your company. When answering the phone be sure to properly introduce yourself "Good morning or afternoon Company Name, Your Name speaking how may I help you or to whom do I have the pleasure of speaking. How may I help you?
Once the customer responds with their name, make a note of it and use it naturally like saying, " Hi, Customer Name, how may I help you today/ how are you doing today, Customer Name." Repeating someone's name is an easy way to remember their name and also build a more personable connection.
Take Notes– It can be extremely frustrating to explain a problem repeatedly, and then have to explain it again to someone else. Be sure to take notes during client phone calls and pass along these notes to anyone who may need it. For example, an administrator who will be taking over the phone call or someone else the customer will be transferred to.
A Personal Answering Service understands how vital client phone calls are, but also understands how busy many companies are. It can be difficult to manage all of the incoming phone calls from day today. This is why e specialize in providing high-quality customer support services.
Contact us today to see how we can help improve your company's customer service!