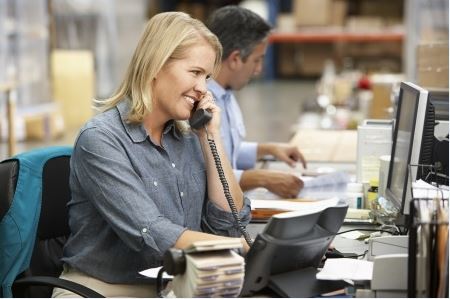 At A Personal Answering Service, our staff can assist you in translating inbound calls into sales. Don't let a missed call mean a missed order or bog down your team with taking calls when our friendly, professional staff can handle it for you.
Our phone order entry operators can take orders from inbound calling customers using either your existing sales software or our own. We will then run the order and send it to your company, allowing you to keep taking sales and keep up with the hard work that goes into creating your products or offering your services.
Our software can accommodate your customizable orders, too, which means if you frequently need to accommodate specific requests or tailored dimensions, we can gather those details for you and ensure that your orders are placed accurately and fulfilled correctly.
By using a professional answering service, you are increasing the likelihood of a client actually purchasing a product or service. The longer the client sits on the phone, the more time they will have to back out or go to a different retailer. Using our company to help with your business' needs, your customers will have their calls answered quickly by our pleasant and professional experts. You will deliver a higher level of customer service and satisfaction while also lowering your operating costs and freeing up employees' time to work on more tasks within the company.
Your business is our business. Our staff is highly motivated and will handle each call with professionalism and poise. Don't lose a single order to a long wait time or a busy signal. Make sure that your customer feels welcome by having a welcoming voice at the other end of the phone every time they call.
Our order entry service is just one of the many ways that A Personal Answering Service can help to manage your phone operations and make your business run more smoothly while providing a better customer experience for callers. To learn more about our phone order entry capabilities or any of our other answering services, call us today at 410-288-7600.