As technology continues to develop, the ways in which individuals choose to communicate with one another are becoming more and more diverse. The digital age has opened many new doors of communication, including texting, email, e-newsletters and a never-ending list of social media outlets. With all of this and more, we forget the importance of oral communication and how a mere telephone call can impact your business relationships.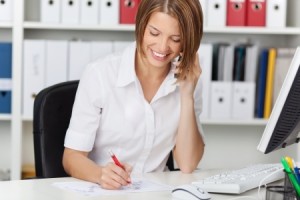 Telephone communication still plays a very important role in society today and possesses great value when it comes to the interactions you share within your business relationships. Whether it is an answering machine or a receptionist, the connection to a human voice is a staple in running an effective business.
Telephone communication is not only personal, but immediate. A person dials the phone, hears the dial tone and a voice, and establishes a personal connection. The customer then has the opportunity to explain their reason for calling without being limited to 140 characters or less. A Personal Answering Service offers services for when your business is understaffed or closed. Agents on staff are able to deliver that personal connection with tasks such as order taking and scheduling meetings when you are unavailable.
In a study conducted by Dr. Albert Mehrabian, voice tone was said to account for 38 percent of effective communication. While web-based platforms allow your message to be reached by the masses, it also leaves much room for ambiguity. Over the phone, the tone of the voice adds emotion to the conversation, stressing important factors of the message. Our staff is highly-trained on how to deliver the messages appropriately as well as ensure the conversation is executed in a polite and professional manner.
A 24-hour answering service can aid in making long-lasting relationships with your customers whether it be through customer support or simple receptionist duties – a voice will always be heard. Having an interpersonal connection through telephone communication can strengthen the relationships you have as you conduct business.
(Source: Chron Small Business)
(Posted by: Melissa Miginini of A Personal Answering Service)